If you are tired of driving around on bald tires, the local automotive shop should be your next stop. But before you arrive, you will need to decide what to do with your old and worn out tires.
You could let the tire store dispose of them, but you will pay a fee for that service. Worse yet, your old tires could still end up in a landfill, since not all tires make it to the recycling stream.
Instead of taking a chance on your old tires withering away in a landfill, why not take the bull by the horns and take care of the problem yourself? Your old tires may not be able to provide a safe and reliable ride any longer, but there are still things they can do. Here are some smart ways to repurpose your old tires and keep them out of the already overcrowded landfills.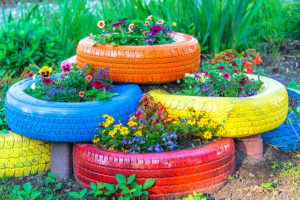 Make Yourself a Unique Container Garden
Container gardening is easy and lots of fun, and an old tire makes the perfect container. Just fill one or more tires with quality soil, spread your seeds or put in your transplants, water and watch it grow.
You can grow your favorite flowers or repurpose your old tires into a thriving vegetable garden. In no time at all, you will have a bumper crop of your favorite flowers and vegetables, all courtesy of your old worn out tires.
Convert Your Old Tires into an Awesome Sandbox
If you have kids, you can use your old tires to create a sandbox that is sure to be the envy of the neighborhood. The kids will love their new play space – and so will you.
Tractor tires are perfect for this purpose, but you can use multiple car or truck tires as well, connecting them into a wonderfully roomy sandbox. Best of all, this is a DIY project you can do in a single afternoon, so the kids can be playing by sundown.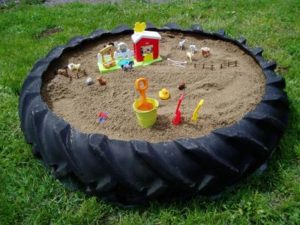 Design a Backyard Obstacle Course
If you have a roomy backyard and an obsession with the great outdoors, you can use your old tires to create a challenging obstacle course. You can stack the tires in various ways, fill them with dirt and build as you go.
In no time at all, you will have a challenging course where you can test yourself and your friends. Best of all, you can build on to your backyard obstacle course every time you get a new set of tires.
Store Your Garden Hoses
An old tire cut in half is the perfect size and shape for hose storage. Just roll the hose up inside, hang the tire on the wall, and you're done.
This tire hose storage device is perfect for off-season storage, but it can be just as useful in the summer. You can even spruce up your old tire by cleaning and repainting it, creating an attractive place to keep not only hoses but extra nozzles and connectors as well.
Add a Pond to Your Landscape
An old tire makes the perfect base for a garden pond, so you can build your project for far less than you thought. You will need to add a liner, some sand or substrate, a few plants, and the fish, but a tire-based garden pond is a great budget alternative to a prefabricated model.
If you have been wanting to add a pond to your landscape but felt intimidated by the cost, this tire pond can be a great alternative. Instead of spending hundreds of dollars on a pond form, you can simply stretch the liner inside the tire and go from there.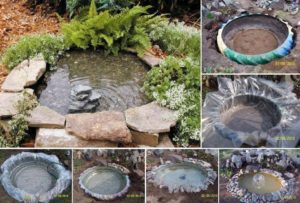 Mountains of tires make their way to landfills every single year, and traditional recycling is only one small part of the solution. Recycling tires into things like mulch and playground materials is a good idea, but you might want to start closer to home with the repurposing ideas listed above.